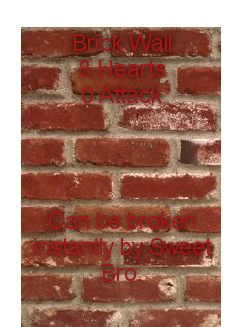 Brick Wall is a card depicting its namesake.
Stats/Effect
Edit
Brick Wall has 8 hearts and 0 attack. It can be broken instantly by Sweet Bro, which isn't a very useful effect, but it's still an effect.
The Brick Wall card is bigger than the usual 200x300 pixels.
This is the 100th page added
Ad blocker interference detected!
Wikia is a free-to-use site that makes money from advertising. We have a modified experience for viewers using ad blockers

Wikia is not accessible if you've made further modifications. Remove the custom ad blocker rule(s) and the page will load as expected.