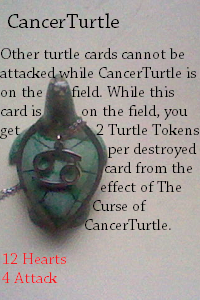 CancerTurtle is a card made by BenBen depicting the figurine from
Marble Turtle
with a Sufferer Chain on its back.
Stats/Effect
Edit
CancerTurtle has 12 hearts and 4 attack. While it is o the field, other turtle cards cannot be attacked. It doubles the effect of The Curse of CancerTurtle, allowing you to play 2 Turtle Tokens per destroyed card.
CancerTurtle is BenBen's gamer/Youtube name.
The Sufferer Chain is also seen in The Curse of CancerTurtle.
It is the strongest of the turtle cards, having double Marble Turtle's stats.
It is the only turtle card which uses black text instead of blue.
Ad blocker interference detected!
Wikia is a free-to-use site that makes money from advertising. We have a modified experience for viewers using ad blockers

Wikia is not accessible if you've made further modifications. Remove the custom ad blocker rule(s) and the page will load as expected.