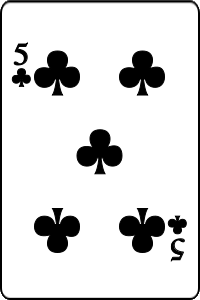 The Five of Clubs was a card created by Moldova in Eurovision 2011 to showcase possible kinds of valid cards that were able to be made. It look just like the regular playing card, the Five of Clubs.
Stats/Effect
Edit
The Five of Clubs does not have any hearts, attack, or an effect. It is arguably the most useless card in the game.
Ad blocker interference detected!
Wikia is a free-to-use site that makes money from advertising. We have a modified experience for viewers using ad blockers

Wikia is not accessible if you've made further modifications. Remove the custom ad blocker rule(s) and the page will load as expected.