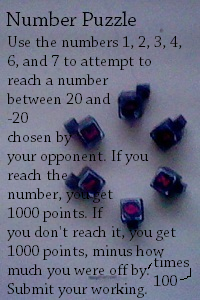 Number Puzzle is a card created by
BenBen
depicting 6 pieces of a broken Sudoku Cube.
Stats/Effect
Edit
Number Puzzle has no hearts or attack. When played, you must use the numbers 1, 2, 3, 4, 6, and 7 to attempt to reach a number between 20 and -20 chosen by your opponent (+, -, *, /). If you reach the number, you get 1000 points. If you don't, you get 1000 points minus how far you were off by times 100. (E.g. If the number was 0 and you got -2, you get 800 points.) You must submit your working to make sure there are no errors and so we know you are being honest.
The numbers on the pieces are (Starting at the top, going clockwise) 1, 4, 2, 6, 7, 3.
BenBen keps these pieces inside his Dustbin Bear.
Ad blocker interference detected!
Wikia is a free-to-use site that makes money from advertising. We have a modified experience for viewers using ad blockers

Wikia is not accessible if you've made further modifications. Remove the custom ad blocker rule(s) and the page will load as expected.