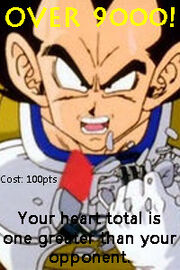 There are currently two cards with the name Over 9000!
Over 9000 (1)
Edit
The first Over 9000 card made merely increases your heart total to one larger than your opponent, and costs 100 points to play.
Over 9000 (2)
Edit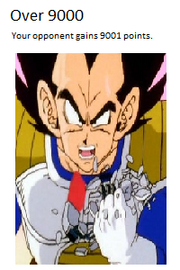 The second Over 9000 card gives your opponent 9001 points, an effect that is only useful if you can steal enemy points or use it against them. Alternatively, this card could potentially be used to eliminate the card Vegeta.
This version was created by player causelessCogitation.
Both cards are a reference to this moment in the original anime.
Both of these cards share the same graphic as the Vegeta card.
Ad blocker interference detected!
Wikia is a free-to-use site that makes money from advertising. We have a modified experience for viewers using ad blockers

Wikia is not accessible if you've made further modifications. Remove the custom ad blocker rule(s) and the page will load as expected.