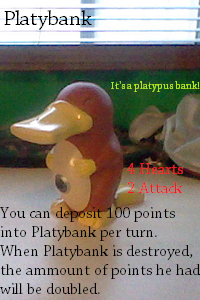 Platybank is a card created by BenBen depicting a Platypus shaped money-box.
Stats/Effect
Edit
Platybank has 4 hearts and 2 attack. The player can deposit 100 points into Platybank per turn. When Platybank is destroyed, you will recieve double the amount Platybank had inside of him at the time.
Ad blocker interference detected!
Wikia is a free-to-use site that makes money from advertising. We have a modified experience for viewers using ad blockers

Wikia is not accessible if you've made further modifications. Remove the custom ad blocker rule(s) and the page will load as expected.