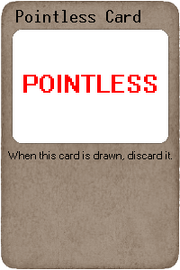 The Pointless Card card depicts the word "Pointless" in red text on a white background.
This card was created by BlazerC.
Stats/Effect
Edit
The Pointless Card is immediately discarded when drawn. It has no other effects and is just there to be a kick in the teeth.
The Pointless Card is even more useless than the Five of Clubs, as this card cannot even be used for sacrifices effectively.
Ad blocker interference detected!
Wikia is a free-to-use site that makes money from advertising. We have a modified experience for viewers using ad blockers

Wikia is not accessible if you've made further modifications. Remove the custom ad blocker rule(s) and the page will load as expected.