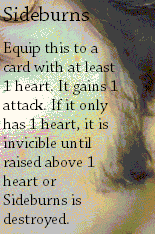 Sideburns is a card created by
BenBen
depicting one of
Tobuscus's
sideburns
Stats/Effect
Edit
Sideburns has no hearts or attack. It is equipped to a card with at least 1 heart, and that card gains 1 attack. If the card this is equipped to only has 1 heart, it becomes invincible until raised above 1 heart of Sideburns is destroyed.
The card would be one of the only reasons why an opponent would heal one of your cards.
This was the logic behind the card's second effect:

1 Heart
Small or Weak
Little
Baby
"Don't be concerned about the itty bitty baby with the big big sideburns."
Don't be concerned
Protected
Invincible

This card is smaller than the usual 300x200 pixels.
Ad blocker interference detected!
Wikia is a free-to-use site that makes money from advertising. We have a modified experience for viewers using ad blockers

Wikia is not accessible if you've made further modifications. Remove the custom ad blocker rule(s) and the page will load as expected.